One of my most favorite meals has always been Traditional Newfoundland fish cakes. A Newfoundland staple for many generations. Salty with a crispy outer crust, these are a real tried and true recipe and a serious comfort food.
Almost all Newfoundlanders make them a little differently but essentially taste almost the same. The secret is in the fish. Check out this excellent article on how to salt your own cod from downhome life magazine.
https://www.downhomelife.com/article.php?id=1034
I remember my father having them all spread out onto a picnic table covered in salt drying in the sun. I can actually smell it as I type mmmm salty air. It was quite the norm growing up to see just about every house in the neighborhood had their fish drying for the winter. Some people even used the clothes line like seen here. What ever the method, you had to be sure it was good and dry, as it had to last through the entire winter. There is so much you can do with salt cod: fishcakes, salt fish and potatoes with drawn butter, fish a brewis the list goes on.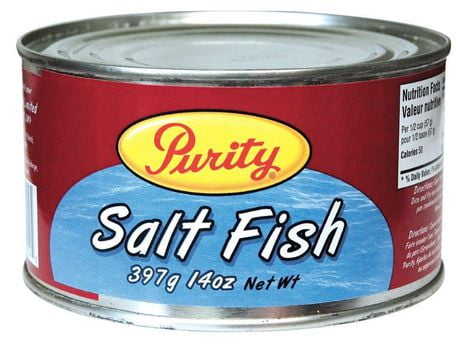 This is a wonderful site talking all about Purity Factories and their history in Newfoundland. My sons grandmother used to work there many years ago. She could get a big paper bag of all the broken cookies for just $2 knows her kids didn't love that. Oh My what I wouldn't do for a Jam Jam right now.
https://www.tastecooking.com/salt-fish-cream-crackers-rock/
On with the Tried & True Salt Fish Cake Recipe:
Ingredients:
approx-2 lbs of dried salted cod fish
a bout 4 Tbsp. butter for the potatoes and another 4 Tbsp. for the onion approx.
an onion small-medium
7-8 cups of mashed potato
1 Tbsp. or less of Savoury
1/2 tsp. white or black pepper
Method:
Soak salt fish over night in cold water the next day change the water 2 or 3 times. ( the more you change it the less salty it will be)
Sauté onion in the 1st amount of butter until translucent
Boil the fish for 5 mins. Cool so you don't burn your hands and pick apart thoruoughly. making sure there are no little bones. We dont want anyone choking!
Boil and mash your potatoes and add your 2nd amount of butter not too much and your onions. Use an ice cream scoop and place each scoop in flour roll around and pat into a circle. continue until you get them all done. Fry until golden in fat back pork or oil and butter taking care not to flip them too many times. Patience is not only a virtue but key to them not falling apart. Should you have difficultly keeping them together feel free to add an egg or just the yolk.
Watch me make these delicious salt fish cakes its pretty simple and step by step.
Thank you in advance for your donation it allows me to continue to create educational videos and keep the site up and running without ads.
Make a one-time donation
Make a monthly donation
Make a yearly donation
Choose an amount
Or enter a custom amount
$
---
Your contribution is appreciated.
Your contribution is appreciated.
Your contribution is appreciated.
Donate
Donate monthly
Donate yearly